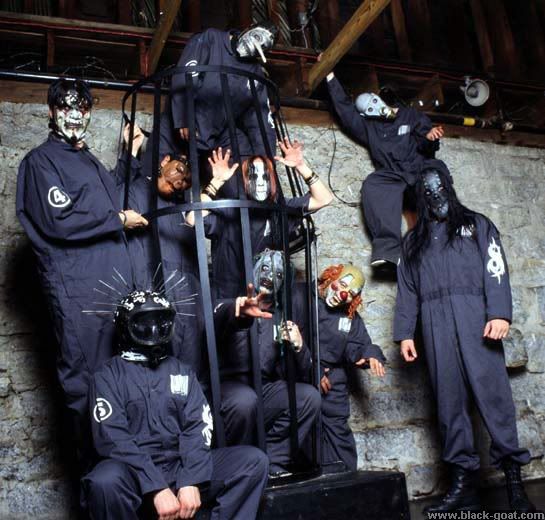 "We are dangerous and that's why we should be locked up in a cage."
Slipknot
is a 9-member nu metal band that burst into the scene way back in 1997 and gained a lot of attention for their scary costumes/masks and angsty lyrics.
Sample lyrics (from the song Surfacing):
F**k it all! F**k this world!
F**k everything that you stand for!
Don't belong! Don't exist!
Don't give a shit!
Don't ever judge me!
Alright so they aren't exactly lyrical poets but the music more than makes up for it. They play metal with some hip hop influences and they have a DJ as well
, he's the guy with the spikes in his head
. When I first heard them in 1998 I thought they were the heaviest stuff I ever heard, but that was before I discovered bands like Lamb of God, Killswitch Engage and Shadows Fall. However Slipknot was the band that introduced me to growling vocals, I never like those kind of vocals before, so without them I would have never given the bands above a chance.
I am not as big a fan as I was back then, but they do have some really kickass songs and their theatrics on stage should be pretty cool to watch. They are currently touring with Shadows Fall who are my favorite band of the moment, so if those guys come down as well in August it would really make my day.
Update: Just saw this on the
Roadrunner (Slipknot's label) website
. Can you spot the
horrific error
there? (Hint: It's the Singapore entry) Let's see how long it takes before they correct it.