Never Gone - Backstreet Boys (BSB)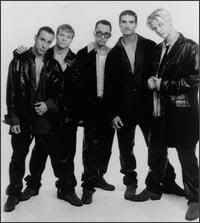 Yes the bad boys of teen pop are back! As soon as I heard the news I immediately started playing their classic hit "Backstreet's Back" on repeat! It's been almost 5 years since their last album Black and Blue which was a little disappointing to be honest, but it's all cool because they have released their latest album,
Never Gone
! It seems so long ago since the time I sang "Quit Playing Games With My Heart" to this chick in junior college whom I really fancied. I didn't know how to express my feelings to her, so I decided to use the song instead. So what if it didn't end the way I hoped it would (she got her friends to "persuade" me to leave her alone), the song helped me express my love to someone without looking like an ass so I will always be grateful to them for that. Unfortunately, my favourite Backstreet Boy Nick Carter has lost some of his boyish looks over the years, but he still looks pretty hot so it ain't that bad. Will probably head down to HMV later to get my copy, you should to.
Responses to my last post have been rather discouraging. So far the only ones who seem seriously interested are men who have transsexual tendencies. Sigh story of my life.
Lyrics of the day:
Gotta a question for you
Better answer now
Am I original
Yeah
Am I the only one
Yeah
Am I sexual
Yeah
Am I everything you need
You better rock your body now

- Backstreet's Back by Backstreet Boys
Yes Nick, you are sexual and everything I need. I missed ya.